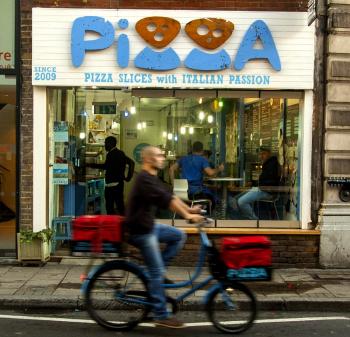 PIXXA approached the ZEN to see if they could cut their emissions from pizza deliveries. The ZEN recommended a free two week cargo bike trial to see whether pizza deliveries by bike would be feasible for their business as 140g of C02 is saved per mile travelled in cargo bike, compared to moped. PIXXA found that the cargo bike enabled them to nip through gaps of traffic and deliver pizza quickly and reliably, saving time and ensuring the pizza is piping hot when it arrives. PIXXA also found that the cargo bike saved money on fuel bills and that the deliveries generated zero emissions which was a great way for them to promote their sustainable credentials. After the trial, PIXXA applied for a ZEN grant to help them purchase a brand new custom-made cargo bike.
"As a ZEN member we were able to work with London Green Cycles (www.londongreencycles.co.uk) to design a cargo bike that exactly matched the requirements of our business and negotiate the best price. We now use it for all our local deliveries."
Simone Giorgini - Owner, PIXXA
PIXXA is a partner on the ZENCARD and offer 10% off food and drink.