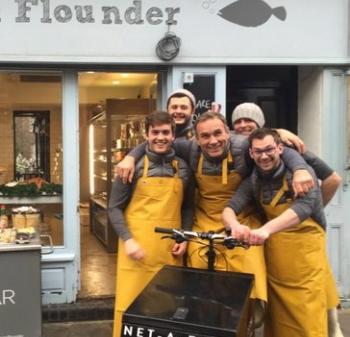 Who are Fin and Flounder?
Fin and Flounder are a local fishmonger based in East London.
Why did Fin and Flounder get involved with the Zero Emissions Network?
Fin and Flounder applied for a grant from the Zero Emissions Network to help purchase their very own cargo bike to make their business more sustainable.
How did it benefit the business?
The cargo bike has meant that Fin and Flounder were able to add a new element to their business – delivery of their fish by cargo bike. When it is not being used to deliver fish it is used as a catching display for their latest fish offers.
"Our experience with Zen has been outstanding from the start. Simple and very straight forward. When we first thought about a cargo bike and started to explore the many options it became very clear that our start up business could not afford this potential asset. We could not believe our luck when we received the news that our application had been successful. The bike turns so many heads and so as a marketing tool it is simply worth its weight in gold. London is a big city and with lots of restaurants buying into our fish philosophy our wholesale operation has grown rapidly but if we can't get to the restaurant on our cargo bike then we decline. This approach has enabled us to grow naturally and locally into our stride." Brendan, Owner, Fin and Flounder
Interested in a cargo bike grant? Get in touch with the form below.