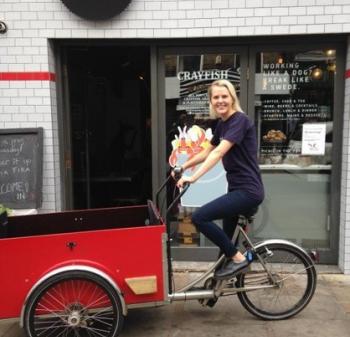 Who are Fika?
FIKA is a coffee company and joined the ZEN in December 2014.
Why did Fika get involved with the Zero Emissions Network?
The FIKA branch in Brick Lane took on a free, month-long cargo-bike trial to help them with the opening of their new branch in Bethnal Green. The cargo bike was supplied by London Green Cycles and was a great way of making quick, hassle free deliveries.
How did it benefit the business?
The free trial allowed FIKA to schedule deliveries and move goods between the two branches. All deliveries were emission free and gave the staff some exercise. After the trial had ended, FIKA immediately bought their own cargo bike.
"The trial really allowed us to test [the cargo bike] and it was really useful to have it for a month, as two weeks would not have been enough for me to be sure of my decision. The month solidified our decision. Thank you so much for making this possible!" Sadaf, Owner, FIKA
Interested in trying out a cargo bike? Get in touch with the form below.