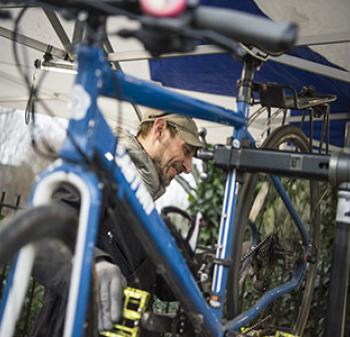 Access Sport  is a charity based in Bethnal Green that helps disadvantaged children to experience and enjoy a diverse range of sport. The charity supports young people aged 5-25, with a particular emphasis on under 18s who are disabled, disadvantaged or excluded from society.
Harriet Plows, the Women & Girls Development Manager, was keen for the office to take part in ZEN's Fix Your Bike course, carried out by Patrick Field from the London School of Cycling. When asked what she had gained from the course Harriet said: 'I personally got a new chain and cassette put on (which I tell everyone I did all by myself) and the knowledge to fix future issues with my bike. I was surprised how much I was able to do by myself, especially with tuning the gears. Patrick was great at explaining everything and being upfront about what we would need to know.'
Harriet would 'absolutely' recommend the course to 'anyone who owns a bike or would like to' adding that the Fix Your Bike Course 'gives you a feel for what is possible to do yourself without paying out for an expensive mechanic.' 
Interested in booking a Fix Your Bike course? Get in touch using the form below.