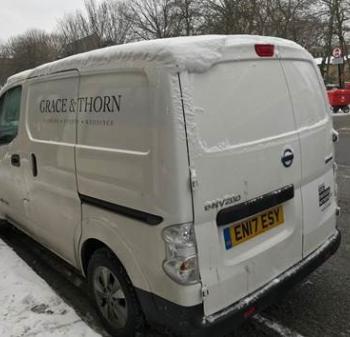 Who are Grace & Thorn?
Grace & Thorn is a Hackney based florist with a focus on indoor air quality improving plants.
Why did Grace & Thorn get involved with the Zero Emissions Network?
Grace & Thorn were looking for a way to minimise emissions the business when it came to deliveries. The company fiirst took advantage of the networks partnership with Zipcar and signed up for a business membership using a van for deliveries. As the business expanded Grace & Thorn became interested in using an electric van instead of a Zipcar van so the Zero Emissions Network organised a two week trial of a Nissan E-NV200. The staff enjoyed the trial so much that they applied for a grant to help pay the deposit for a three year lease on their very own electric van.
How did it benefit the business?
Soon after acquiring the EV, 50% of Grace & Thorn deliveries are now made emission free. Their beautifully branded van has even been spotted outside Hackney Council's main office. After the great success in reducing emissions by using an electric van, the company asked the network to assist them in organising a lamp post EV charge point from Tower Hamlets Council to be installed outside their shop on Hackney Road.  It was a great success and the mayor of Tower Hamlets was present to unveil the charge point with Grace & Thorn.
Interested in trialling an electric van? Get in touch with the form below.