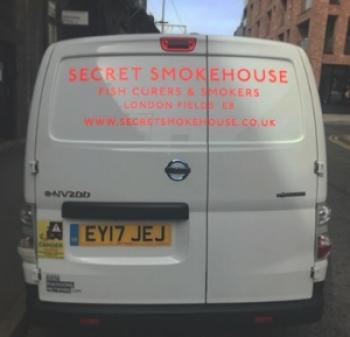 Who are Secret Smokehouse?
Secret Smokehouse is a rapidly growing fish smoking business based in London Fields.
Why did Secret Smokehouse get involved with the Zero Emissions Network?
The Secret Smokehouse approached the Zero Emissions Network to seek assistance with reducing their delivery costs and improving their impact on the environment. The ZEN organised a trial of the Nissan e-NV200 van to see if it was a suitable fit for the business.
How did it benefit the business?
The trial allowed Secret Smokehouse to test out the electric van and see if going electric was feasible. The company was worried about the range of an electric van as they complete many deliveries per day and staff had no experience of using electric vehicles or charging points, so being able to test the vehicle first was extremely important. The company went on to purchase an electric van.
"It has been amazing working with Patrick and the ZEN team to understand clearly the huge benefits of switching to an all-electric business vehicle. I initially had some anxiety with the range and how to charge it up but all became clear and a no brainer after a four day trial of the Nissan e-NV200. Not only was it an amazing vehicle but I felt so relaxed after a day of driving electric compared to my diesel car! I'm now in the final stages of buying my very own - the cost saving alone we calculated at £4.5k per year versus the diesel equivalent." Max, Owner, Secret Smokehouse
Interested in an electric van trial? Get in touch with the form below.