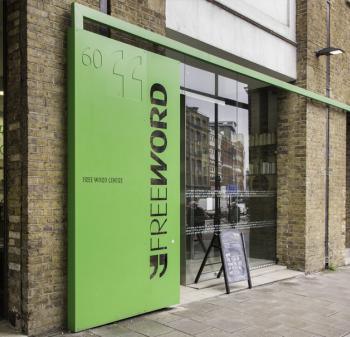 Who are the Free Word Centre?
Free Word Centre is a literary arts centre on Farringdon Road.
Why did the Free Word Centre get involved with the Zero Emissions Network?
Free Word Centre previously couriered books across London using petrol taxis and they approached the Zero Emissions Network to make these deliveries more sustainable. The centre was able to make the switch to zero emission taxis through our partner eConnect.
How did it benefit the centre?
The Free Word Centre are able to improve upon their green credentials by ensuring that all couriered items are sent across the city emission free.
"We're really pleased that the Zero Emissions Network could help us in our continuing mission to 'green' the supply chain here at Free Word. Having been introduced to eConnect Cars, we are now able to get all our taxi and courier needs met by a fully electric provider, and make a contribution towards improving air quality in the area. The service has been efficient and cost-effective (with the ZEN discount) too – I would certainly encourage other local businesses to do the same." Alexander, Free Word Centre
Interested in switching to electric taxis? Get in touch with the form below.