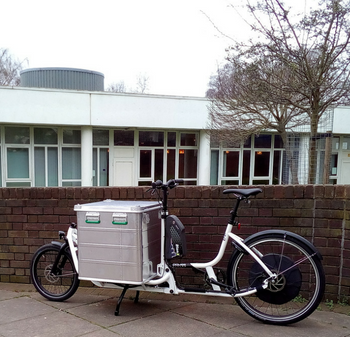 Urban Studies is an independent publishing house based in Tower Hamlets and focuses on the problems that arise from urbanistation. 
Urban Studies trialled an electric cargo bike for a day. 'We tested the Douze Electric cargo bike from Propeller Electric Bikes with help from James. It was an excellent experience. We were able to transport significant weight across various London terrains and morphologies with ease. Great steering through smaller streets around St Pauls and Soho too. ...we can see how useful and wonderful electric cargo bikes are in getting things done effectively and efficiently in dense urban centres like the parts of London we live and work in. We need to deliver books to bookshops and take equipment such as projectors to our events. Was easy to organise and you can get a real sense of the value of the bicycles – try before you buy!'' Trenton Oldfield, Urban Studies
The company loved their experience so much they intend to apply for a ZEN grant to help purchase their own electric cargo bike.
Trenton and his wife as resident members requested to take part in a resident express Fix Your Bike  course. At two hours long the express course is half the length of our regular course and helps people get to grips with the basics of bike maintenance. Expert mechanic Patrick travels to your home or nearby park and gives you a hands on experience, teaching you the essential skills required to look after your own bike. 
Interested in an electric cargo bike trial? Get in touch with the form below.